About
The psychic website Kasamba.com is a network of psychics that was established in 1999. The network has changed owners since its initial launch and is currently owned by a NASDAQ enlisted company that goes by the name LivePerson Inc. The owners behind Kasamba have a solid platform in place with a huge selection of psychics. They are established as one of the big players in the psychic network industry.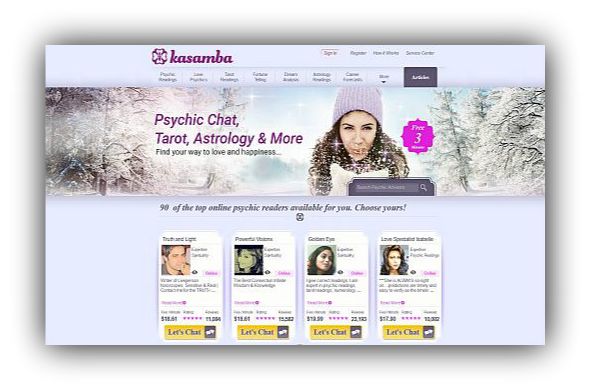 Divination Practices
This psychic network has everything you need. With ease, you will be able to find the most common divination practices. So, getting a psychic reading and have a tarot card session at the same time, is really not a problem. You will also find experts in graphology and Kaballah. And if you have a pet, you can even consult with a pet psychic.
The Workforce
Kasamba has a huge pool of psychics. They do claim that they have well over 30,000 registered advisors, who work either part or full-time. What we have noticed is that on off-peak hours, you will easily see around 250-400 advisors online. That is a good number of psychics during the "slow" hours of the day.
As a customer, you might be interested in how the advisors are hired. Unfortunately, there is no serious hiring process in place. To be part of the workforce you just need to pay a fee of $50 dollars, and after that you are able to set up a profile. It does not mean that there are no good psychics on the network, it is just that there is a higher risk of bumping in to those who are less serious.
Methods of Contact
If you want a psychic reading, what are the means of communication? Well you have the following options to get a reading:
Readings by Email
Readings by Phone
Readings through a Chat interface
If you want to reach the customer support team, you need to submit a ticket. As far as we know, that is the only way to get hold of the support team. However, they do have an extensive FAQ section under the "Service Center" tab that carries lots of information.
Pricing and Offers
With Kasmaba you will always get 3 free minutes, no matter if you are a new or returning customer. Some conditions apply though, but that generous offer is also what makes Kasamba a good psychic network. We can disclose that other networks will not offer returning customers any free minutes in the same extent Kasamba does.
New customers can also enjoy further discounts of anything between 15% to 50% off the regular prices. If you are a returning customer, expect to receive occasional offers in your inbox.
When it comes to the pricing, regular per minute fees range from $1.69 to $25.00 per minute.
How to find the right psychic?
To be able to find the right psychic that you feel a connection with, you have to trust your intuitions. But not only that, try to do a some research of the psychic that interests you before you make your final selection.
You should obviously read each psychic's profile on Kasamba. Reviews of previous customers should be taken in consideration as well. Many of the advisors on Kasamba tend to have lots of customer feedback, so it shouldn't be hard to get a feel of what people think of the psychic and his/her abilities. The customer reviews are accessible through each profile page. Once that has been done, it is really just a matter of diving in to things..trial and error, just like many other things in life. The good thing here is that you have the three free minutes you can use to get a feel of the psychic.
The Website
The website itself, looks nice and it's quite easy to navigate. The website is of course mobile friendly, but the better option is to download the app if you are a smartphone user. They do update the website layout from time to time in order to stay as up-to-date as possible with current technologies.
Besides the psychic to customer services they provide, you will also be able to access articles on different topics, but there is not much extra than that really.
Customer Complaints
Is Kasamba legit even though their screening process is not very supervised? Well, that is for you to decide in the end, but as we mentioned earlier, Kasamba.com is own by a company that is registered on the stock exchange. This means that they are complying with many laws, at least on the business level.
Kasamba scams have been reported, and are often aimed towards new psychics on the network. Since the screening process is not good, taking the chance to consult with a new advisor might be a little bit risky. You will otherwise find many good psychics with thousands of positive reviews. It might be word sticking with them in the beginning.
Summary
Kasamba has a large workforce of over 30,000 registered advisors. This number is really not a surprise since the screening process is not good, to the level that they will accept anyone that just pays the registration fee. However, there are still many good psychics out there, and they are trusted by many customers who have given many positive reviews. It is still a good network as long as you can filter the good ones from the bad ones. Their chat platform is probably the best one out there of all the psychic networks. We think they are a good choice if you want a psychic reading because of the large pool of advisors and the free minutes you get for each advisor.
Sign up and use the free minutes you get together with the discount on your first psychic reading.