About Keen
Keen was first established back in 1999, and has earned great respect since its first day of operation. The current owners, Igenio LCC, bought the company in 2013 from another party, and they have continued to offer what their customer base expect.
Keen is a top player in the online psychic network community and is a dependable platform for psychic readings. The company ensures your consultations are absolutely secure, safe, and confidential. Many subscribers of Keen think it is an online psychic network that you can count on.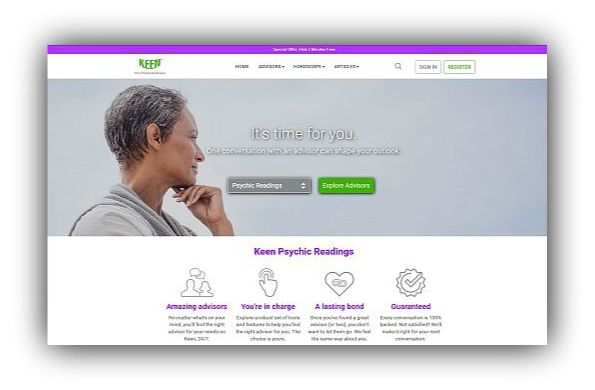 Divination Practices
At Keen, you are sure to find every answer to the questions related to your life in general! Be it your finances, or your relationships, your past life, or your future, the psychic experts will be there by your side throughout, and even after that (if you wish to) answering all your queries. They have a wide range of divination practice which you can consult and get the answer you need.
Here's a list of some of the areas that keen.com covers:
Psychic readings: It is an attempt made by the psychic readers to anticipate information about their clients by using their perceptive abilities or through their basic instincts, sight, taste, touch, sound, vision, factual knowing, feeling or other similar factors. This helps them to answer their clients' questions related to their love, life, career, and sometimes even help them to contact the spiritual world. Keen psychic readings are there for your questions.
Tarot readings: There are a number of tarot card readers available at Keen who would answer your life questions based on the playing cards that you pick!
Spiritual readings: There's spirituality prevalent in one and all. Everyone interested in psychic readings would inescapably be intrigued by spiritual readings. At Keen, you'd find a number of spiritual leaders who'd answer questions about you, your loved ones, and the unseen thread that binds everyone. You want to know about spirits? The readers will help you.
Psychic mediums: He is a person who can communicate with spirits directly. You want closure? Or want to contact the dead? Consult Keen's psychic mediums.
Life questions: Don't know where your life is heading? Clueless about your existence? Worry no more. The counseling experts at Keen will help to pull you out from the mess and answer your life questions.
Love and relationships: To a human, nothing else apart from these really matter. If you're facing problems related to your love or your other relationships, get in touch with the experts at Keen to find solutions!
Astrology readings: Get accurate predictions about your life with the help of the astrologers at Keen.
Dream interpretations: What do your dreams signify? Do they mean something in your life? Are your dreams trying to hint at something? Find your answers with the help of the experts at Keen.
These are just some of the tools Keen psychics use to give you the advice you are looking for.
The Workforce
Keen has a total base of well over 800 advisors offering 100% guaranteed customer satisfaction. According to their website, it only takes a few minutes to set up an account if you want to work as an advisor. This would however mean that the screening process is not very effective since they seem to accept almost everyone who claims to have psychic abilities. The only way to check the authenticity of a psychic advisor would be by trying them out as a customer. This does not mean that the advisors are fake, because you will find a good number of psychics who are actually really good at what they do.
Methods of Contact
Psychic readings by psychics at Keen.com is something that is easy to set up. The psychics according to their area of expertise, be it spiritual reading, tarot card reading, psychic reading, astrology, etc. are listed under their respective categories in the 'advisors' tab; and hence, locating them is quite simple.
The methods you can use to get a psychic reading are by:
The bad part about phone readings is that they have connection fees, and if you are an international caller the fee is higher.
Pricing and Offers
If you are a new user and want to consult a psychic on the Keen psychic network, you will get three free minutes when you register for an account and pay for a reading. Prices can range from $1.50/minute to $20/minute.
How to find the right psychic?
In order to find the right psychic for your next psychic reading session, you should do a little bit of research. Yes, it requires that you spend some time online, but it may be well worth it. The way you pick the right psychic for you, will really depend on the criteria that you have set. Some people just go with their gut feeling and some do rigorous work when choosing an advisor. Let us give you some ideas.
You should read the full profile of each psychic advisor. Each psychic have a section where they introduce themselves. This can usually be found at the bottom of the profile page where it says "Advisor Statement". Some statements are long and some are very short. You will also see the different divination practices they use for their readings. Then there is of course a profile image for you to view and have a look at the psychic. For some, a face image can be the deciding factor when you are trying to chose between two Keen psychics. Reviews from previous customers should also be read. They can be found under the profile page. Just read as many reviews as you can because that will likely give you an idea of how well a psychic has done in past readings.
If you want to do more research, you could also search for the psychics user name on the internet. If the Keen.com psychic has an odd user name, it might simplify the information search…that is if more information exists. You could also search for parts of a psychic's "about"section. Just highlight and copy a full sentence and search it on any search engine. The advisors often copy the same text of their "about" section to other websites, which means that you might get additional information.
The Website
Apart from the advisory services mentioned earlier in this article, you would also find other features at keen.com
You can read daily horoscopes at keen.com
The Keen blog is an active platform where various articles on love, life, relationships, and astrology can be found
You will also find advisors' blogs on the website
Customers also have the option of availing Keen psychic customer service
at any time of the day, whereby customer complaints are redressed on the site
The website is quite clean and very easy to browse for both desktop and mobile users
Mobile app is also available for download
Customer Complaints
Keen.com is a legit company complying with the laws of United States. They have been in business since 1999, and with that comes responsibility to address customer complaints. Some of the complaints we have bumped into include:
Some readers have complained about fake readings
Satisfaction guarantee policy should be more generous
Lack of promotional offers
If you do a search on "Keen.com reviews" on any search engine, you will likely find articles and comments claiming that they are scam and not legit. Bare in mind that they are actually not many complaints comparing to the positive reviews you will find under the majority of the profile pages on the Keen website.
Summary:
Since its first day of business in 1999, it is fair to say that Keen.com has established itself to be one of the top psychic networks. They have a decent amount of psychics available around the clock so you can easily get a psychic reading any time of the day. They offer new customers three minutes of free psychic reading, and they have satisfaction guarantee where you can claim back part of your money if you are not happy with a reading. It is safe to say that if you are interested in guidance in your life Keen might able to help. Psychic readings by psychics at Keen.com can actually become a life-changer for you.