About Oranum
Oranum.com has an "Ownership Statement" page stating that the psychic network is own by Duodecad IT Services out of Luxembourg. However, digging a little bit deeper, there is a parent company that owns Duodecad IT Services, which is named Docler Holding. This company is also based in Luxembourg, owning several other companies in different verticals.
Looking back in history we can also see that the site was first taken live back in 2010. Owners at that time, seem to have been LALIB – Gestão e Investimentos, Lda., based out of Portugal.
Today Oranum is one of the largest international psychic networks connecting advisors and customers from all over the world in several languages.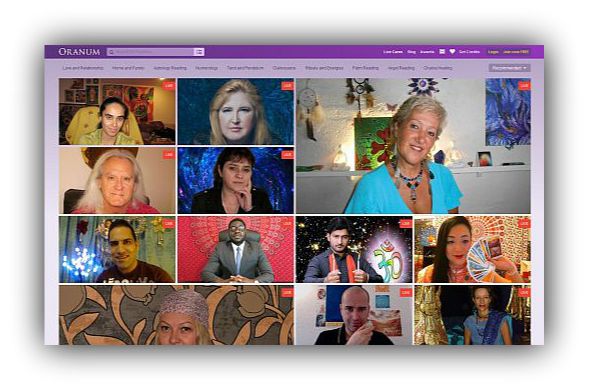 Divination Practices
The network offers well over 60 different practices, and you can find anything from palm reading to face reading. They do also offer readings in 19 different languages, and counting. However, English is the most common language used.
The Workforce
We had a hard time finding the amount of advisors working for the network. We did not even find an about page on their website to find out more. However, we believe the workforce is well over the thousands since they do not only serve English speaking customers, but also customers from other countries.
Oranum does not hire the psychic advisors with a paid salary. Instead the advisors are invited to join the network as independent contractors. Advisors create an account for free and then they need to comply with the in-house rules. A representative from Oranum reviews the application and then tests the advisor in a live session.
Methods of Contact
To consult a psychic advisor through Oranum.com, the methods of communication are through chat, webcam, and private message. The webcam software is what really carries the site and why repeating customers come.
Support is reached by using a live chat feed or by email. Phone assistance seems only available for billing questions.
Pricing and Offers
Just because Oranum psychics come from different parts of the world, they have introduced a "credits" system. You need to purchase "credits" in order to pay for any readings. The advisor can then withdraw his credits to his own currency where he lives. The credit system makes it easy for every one, and it also secures that you are not being charged more the the credits you have available.
Offers from Oranum are generous. The network lets you have a free chat sessions all the time even if you do not have an account. However, the chat session are very short. To have access to more minutes you need to create an account, which is free. As a matter of fact, they actually pay you for just joining! All new members get 9.99 in FREE credits.
If you are interested in a paid session, prices are calculated by the minute. Expect anything from 0.99 credits per minute to around 15 credits per minute. There is also an option to pay for an advisor's "Premium Content". It is a monthly subscription to access material that the advisor shares with his subscribers. Prices range from 0.99 to 14.99 per month.
How to find the right psychic?
To find a good Oranum psychic you will need to do some research, and be patient about it. We always recommend going through the profile pages, but some time during 2016 the profile pages changed. All the previous information listed on the profile pages was basically deleted. Many advisors had lots of reviews, but for some reason Oranum also decided to reset everyone's customer ratings back to zero and start all over again. All of those alterations had probably to do with Oranum's change of the whole design and structure of its website. Oranum psychics are now slowly building up their credibility which means that you will actually see many psychics without customer feedback.
Having had all that said, go through the profile pages and read the psychics "about" section. Check the star ratings; the higher the better. Oranum will also review psychics and give them rewards. There is a point system in place where they get points for positive feedback, amount of readings performed, and a bunch of other things. During a two week period they accumulate points and the first three places will be awarded virtual trophies that are visible under each psychic's profile. The amount of times each advisor has gotten the award will also be visible under the profile page. If you see an advisor with several first place awards, then maybe that Oranum psychic should be considered for your next reading.
Oranum's search function is not very good as it is very limited, but you will be able to search by divination practice, and also by the name of the psychic. Otherwise it is just to dig in, and make use of the free chat sessions, which will give you the chance to feel the chemistry between you and the Oranum advisor.
The Website
The website itself was revamped sometime in 2016. It looked a lot different back then, than what it does today. When you land on the Oranum home page, you will see a bunch of images of different advisors that are available. Some images are larger than others, and by default you are shown all the "Recommended" advisors. This means that you are just a click away from interacting with a live psychic advisor. The focus with the website is to get you connected with a psychic instantly.
Other extra things the website offers would be the blog section where you can read some articles and check the weekly horoscope. Besides from that we can't find anything else.
A comment about the chat interface, is that it is really good. Oranum uses an in-house chat software, which is very stable with several features for both the advisor and the customer.
Customer Complaints
We have stumbled upon several Oranum complaints about psychics not being able to deliver. Unsatisfied clients will complain when they are disappointed with the psychic reading, but it doesn't mean the psychic advisor is a scam. However, it begs a further investigation to see if the same advisor has more complaints.
Is Oranum legit when some psychics on the platform are accused of scams? Yes, Oranum as a whole is still a legit company. In this line of work, there will always be those that try to rip off customers, and that is also why psychic networks exist. They work as a form quality control entity to eliminate the bad from the good.
Summary
Oranum entered the psychic business in 2010, which is later than many of the other popular psychic networks. But they have a done a great job in establish themselves in the industry. They focus mainly on live streaming sessions, which they do very well with. Their streaming and chat software is top of the line, which makes the reading sessions more enjoyable. The generous free chat opportunities you get are really great, and then there is also the bonus of free credits that are credited to your account when you sign up. In terms of the quality of the psychics, we do however believe that the average caliber of the psychics could be better.
Oranum is a fun platform to interact with different advisors. The free credits and chat sessions you can use are a way to show transparency so that you can test the platform. We believe that the website will keep growing and become better. In the future, we might have to do a new Oranum review, but in the meantime we do recommend this psychic network.
Join now and claim your FREE credits!