About Psychic Access
Psychic Access went live in 2005. The company was created by Doug Christman with operations based in Nevada. While it is a small network, it has been around for many years providing professional psychic readings mainly in the U.S.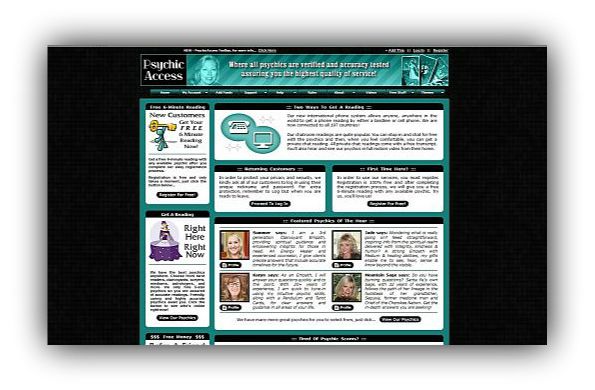 Divination Practices
Psychics at PsychicAccess.com will have all the common divination practices that you want to consult.
Some of the topics and practices they cover would be:
Past Lives
Numerology
Astrology
Tarot Reading
Love & Romance
Pet Psychic
Clairsentient
Angel reading
The Workforce
As mentioned earlier, Psychic Access is a really small psychic network. They have around 60 psychics, and all working different days and hours of the week.
The good thing with the workforce is that all psychic advisors have gone through a screening process. According to Psychic Access' website, all psychics must have a minimum of five years experience. The psychic advisors must show proof of previous work related to psychic readings. Every advisor must also be at least 21 years of age and be fluent in English. A positive attitude as a person is also something Psychic Access looks for in a psychic. This is because when a psychic for some reason needs to deliver bad news during a reading, it is important that they can deliver it in the best positive way as possible.

Methods of Contact
If you want a psychic reading on Psychic Access, there are two ways of getting one. You could either get a psychic reading by phone, or by using the video chat option.
Pricing and Offers
With Psychic Access, as a new customer, you will get free minutes when you create an account. A total of six minutes is given to you after you have signed up and verified your account. You can use the minutes to speak to any advisor on the network. For returning customers you may get offers sent by email from time to time.
For a paid reading, just like any other psychic network, Psychic Access charges by the minute. Expect to pay anything between $3 to $8 per minute for a paid reading. If you use the free minutes in combination with a paid reading, it's the best way to average out the price and get a psychic reading that you can be pleased with.
How to find the right psychic
In order to find a good and reliable psychic on Psychic Access, you will not need to do much investigation. Even if you only have sixty psychics to choose from, which is not many comparing to other networks, you will still have a great selection of trusted psychics.
The screening process to become an advisor on Psychic Access has done half the job for you. That process will at least secure that the psychic advisor has a minimum of five years of documented experience. While it may not always assure that you will be pleased with your psychic session, it will sure give you some comfort that the psychics have experience.
When you navigate through Psychic Access' website, you will see a list of psychics available. Clicking on their profile pages will reveal more information about them. The good thing with the profile pages is that they all have a bunch of information about themselves and what they can offer you. Near the bottom of each profile page you will also find "Customer Comments". You should read those comments because they are feedback from previous customers. That will help you a lot in your selection of finding the right psychic for you.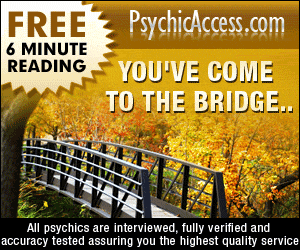 The Website
When it comes to the website itself, the design is really outdated. They have kept same design since 2007, and at the time of writing, the website is not mobile friendly. However, don't let the design put you off as they still have good psychics on the network.
You will be able to access a blog section with many articles, and also a monthly horoscope section. They used to have a radio channel, which is currently not active, but an archive section is available to access old radio shows.
Customer Complaints
Psychic Access complaints can be addressed by sending an email to the support team. A few complaints we have read have been about the reply from the customer support. Some customers have said to experience rude replies from the support team, but we are not aware of the exact replies exchanged. A few have said that their account was closed without no reason. However, this part may be because a customer have tried to create two accounts under same name, household, or same IP. This was probably done to get additional free minutes. However, according to the terms of use, you can only create one account per household or IP address.
Many non-believers of psychics would probably think that Psychic Access is a scam. But they would actually think so too about any other psychic network. Legit or not? You will have to decide yourself, but bare in mind that they have been in business since 2007 with lots of positive feedback.
Summary
When we visit Psychic Access's website, we are not very impressed with the layout. But don't let that fool you because they have a wide range of competent psychic advisors. Remember that you are visiting the site because you want to consult a psychic advisor…and not there to judge a design contest. We like that they have a strict selection process to become a psychic, which is unusual amongst the psychic networks out there. Another great thing is that they will give a total of 6 free minutes to anyone that signs up. Hard to beat that offer!
PsychicAccess.com seems to be a small but trusted place to get a psychic reading from. With the free minutes you get and the experience you will have from the psychic advisors, how can you go wrong? We can definitely recommend Psychic Access to anyone looking for a psychic reading. If you end up getting a reading from Psychic Access, you are welcome to share your experience.