About Psychic Source
Psychic Source is a psychic network that has been in business since 1989, as stated on the about section of their website. The owners of the website seem to be named Expert Link, Inc. This company is based in Pennsylvania, United States.
Psychic Source is a well established network with many returning customers. They are one of the best psychic networks with great reviews, and offering a wide range of psychic services.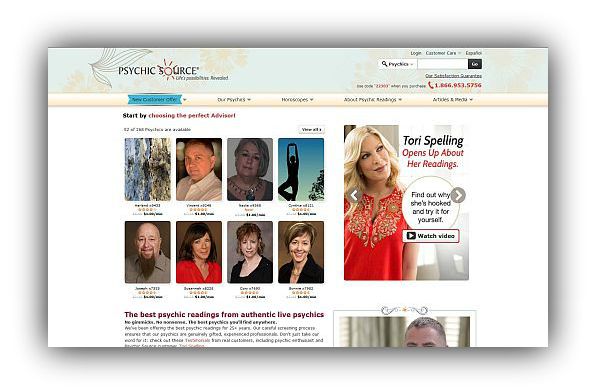 Divination Practices
With Psychic Source you will find all the basic divination practices that you are looking for. Example of readings you can get from the psychics are tarot readings, angel card readings, and dream interpretations. You will really find what you are looking for.
The Workforce
Psychic Source have well over 350 psychics working full or part time. You will find a psychic any time of the day because they are available 24/7.
The hiring process for the psychics are better than many other psychic networks. Each psychic goes through a screening process that consists of two parts.
In the first part the psychic sets up an account through the PsychicSource.com website. An application form is filled out and sent to the network. After a few days a representative from Psychic Source reviews and sends a confirmation email acknowledging the receipt of the application. In the same email you will be asked to set up an interview. If everything goes well after the interview you will deal with the second part of the hiring process.
The second part is about testing your abilities as a psychic. You will be requested to perform a 10-15 minute psychic reading to one of Psychic Source's staff members. If things go well the psychic is hired. When a psychic is hired, they make a partnership with Psychic Source as as an independent contractor. This means that the the psychic can set his own working schedule and pricing.
Pricing and Offers
If you are a new customer you can claim an introductory offer, which will entitle you to a low fee of $1/minute + 3 free minutes. That is a very good deal, because you will not only get free minutes, but also get the opportunity to try a psychic without feeling your spending too much money. The packages available are 10, 20, and 30 minutes. They can only be purchased once at the the $1 per minute rate. So a 30 minute package, it will cost you $30 + you get the 3 free minutes, which gives you plenty of time for a comfortable reading.
For customers already sign up with Psychic Source, there are several discounts and giveaways that you will be sent. They tend to have deals and offers on monthly basis.
Methods of Contact
There are only two ways to get a psychic reading, and that is by phone or chat. Sometimes they might have promotional offers where you could can ask one free question to a psychic, but phone reading are actually to prefer.
If you are interested in getting in touch with the customer support, you have the options of calling, emailing or access a live chat. The live customer care unit is quite good, but there is also a solid FAQ section where more information can be obtained.
How to Find the Right Psychic
With so many psychics to choose from on Psychic Source, which one should you pick? Well, if you have never consulted a psychic, at least know that you are in good hands because you will find many good psychics on Psychic Source.
There are many ways to search the site for a good psychic. If you for example click on the "Our Psychics" tab on the website, you will get a list of different psychics available at this very moment in time. A search function is also available where you can search by different criteria. You can search for specialties, reading style, alphabetical, pricing, etc. If you even feel like talking to a completely new psychic, then there is also that function as well.
After you have done your search, you can click on any profile. There you will be able to read more about the psychic. It is a clean profile page with a large sized image of the psychic. Read the profile and see if you "click" with them. What definitely is a must, is to read the customer reviews, which are customer ratings of past readings from the psychics. Build your own opinion with the information you see, and select the psychic that you feel is right for you.
The Website
Looking at the website, it has a clean and bright layout. The navigation experience is good, and the mobile version is also clean and to the point.
A part from the paid readings that customers want, there is also a section of interesting articles you can read. Videos and podcasts are also available. Psychic Source is also very active on social media, which enables you to have a more personal contact with them.
Customer Complaints
Psychic Source complaints can be addressed through the customer care center. To avoid any "Psychic Source scams" attempted by the psychic advisor, the company has a special "code of ethics" that each psychic must comply with. On top of that, they also have a "satisfaction guarantee" policy, which means that if you where unsatisfied with your last reading, it will be free.
Psychic Source reviews all complaints and handles each situation in a professional way. You might still find people who claim that Psychic Source is not legit, but bare in mind that they often have ungrounded evidence. A really good advice is to read the "terms of use" and "privacy policy" pages, because lots of things are addressed there. From time to time, psychics can also have a bad day, meaning that it could affect their psychic abilities. In turn, this will affect the customer's trust in the network, leaving them thinking that psychics are scam, when instead it was just a bad day for the psychic.
Summary
Reading through the Psychic Source review we have compiled we can easily say that we are looking at a company that have delivered psychic services for a long time. The company does not only deliver great services, but they also look out for the best interest for the customer. It is by far one of the best psychic networks that offer a cheap introduction package for that first psychic reading you need. They also give you three free minutes with any package you end up purchasing, and if you are not satisfied with you last reading, you may even be entitled to a free session. What more can you ask for?
Give Psychic Source a chance and try their highly rated psychics!